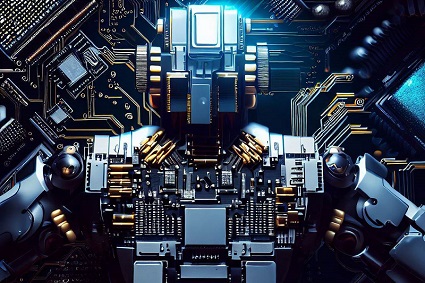 It seems like everyone is rushing to cash in on the artificial intelligence (AI) craze unleashed by ChatGPT. This is especially true for companies in the technology industry. Companies from Microsoft to Google to China's Baidu are all rushing to create the best chatbot.
No one yet knows what company, if any, will come out on top…although I'd say Microsoft is ahead early in this race.
However, no matter what company comes out on top in this race, there is already a group of tech firms that are big winners…
AI: Chip Companies to Benefit
Chipmakers are benefiting from booming demand for the semiconductors needed for chatbots. And they will continue to benefit, no matter who wins the AI race.
Nvidia's (NVDA) shares jumped nearly 12% in the week following the release of the latest version of ChatGPT and are up about 95% since the start of the year to a new 52-week high.
The chip giant is not alone. Fellow chip company Advanced Micro Devices (AMD), chip manufacturer Taiwan Semiconductor Manufacturing (TSM), and chip tool maker Applied Materials (AMAT) have all seen substantial gains—50%, 25.5%, and 26.5% respectively—in share prices this year amid surging demand for AI-related chips.
Jensen Huang, founder and CEO of Nvidia, says this is just the start of a new era for the tech industry.
He told developers at the company's annual GTC (global AI conference for developers) get-together in late March that "We are at the iPhone moment of AI."
Vivek Arya, managing director and semiconductor analyst at Bank of America, told the Nikkei Asia "For semiconductor companies, [AI] is a net positive because it is bringing another application of technology that they can charge for. Whenever there are technology transitions, generally the arms dealers are the ones that tend to benefit in the early days because they are supplying everyone in that conflict."
My takeaway is that the ChatGPT boom came at a perfect time for the semiconductor industry, helping to reverse the industry's pessimistic outlook for 2023. At the end of 2022, semiconductor manufacturers were all rushing to cut costs and lower their planned spending on capacity expansion to avoid a glut as demand weakened.
Nvidia is perceived to be the leader in AI chips. The company's early focus on high-performance computing chips for gaming gave it a head start in developing chips for artificial intelligence.
However, it needs partners to further develop its technology. And that's where Taiwan Semiconductor comes in. Nvidia is working with TSM—the world's biggest contract chip manufacturer—on cuLitho, which Nvidia touts as a breakthrough in chip lithography. Lithography, which the process of creating patterns on a silicon wafer, is one of the most costly and difficult steps in semiconductor manufacturing.
Vivek Singh, vice president of Nvidia's advanced technology group, told Nikkei Asia: "'The iPhone moment for AI' is certainly going to explode the demand for chips."
That means more efficient production will be of the utmost importance. Again, this plays into TSM's strengths.
Taiwan Semiconductor: Strong Buy
TSM breaks down its revenue by chip processing—also known as node—technology, with smaller nodes allowing for chip production with higher transistor density. This translates into more speed with less power consumption as the distance between transistors (on the chip) lessens.
Taiwan Semiconductor's long-term growth outlook is bright, given its more than 90% share in the leading-edge foundry processes, 5 nanometers (N5) and 3 nanometers (N3).
I see Taiwan Semiconductor's revenue flat in the first half of 2023, after a robust 2022 (+43%), with a major pick-up in the latter part of 2023. And I see strong topline growth returning in 2024 (a minimum of +25%), led by its high-performance computing (HPC) segment—think AI chips—underpinned by a strong 3 nanometers design pipeline from Apple, AMD, and Nvidia.
HPC revenue mix is likely to reach 50% by 2024, up from just 39% in 2022, as TSM maintains its process leadership with a greater than 90% share in both N5 and N3 nodes.
It seems to me that while Nvidia gets the glory from Wall Street (its forward price/earnings ratio is a whopping 62) it is Taiwan Semiconductor that actually does the hard work. Its forward p/e ratio is a low 16.8 times.
And TSM does pay a decent dividend. It pays quarterly (currently 46 cents a share), with a yield of nearly 2%.
TSM is a buy anywhere below $95 per share.
This post originally appeared at Investors Alley.
Category: Dividend Stocks